Group And Private Wedding Dance Lessons

It's Easier Than You Think!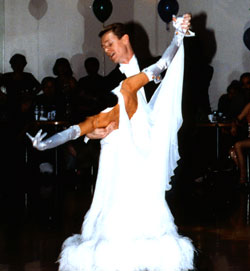 Congratulations on your upcoming wedding! You want every detail of your wedding to be perfect, so why not make your first dance as husband and wife memorable? Our expert instructors have been teaching couples in the Boston area to dance for their weddings since 1984. Whether it is your First Dance, the Father/Daughter dance or the Mother/Son dance, our wedding dance lessons will make this aspect of your wedding planning something fun you can do together. And dancing together will be something you can enjoy together for the rest of your lives! Everyone would love to know how to dance, but most people are afraid of looking awkward. Don't be nervous; anyone can learn to dance and it's easier than you think! We welcome gay and lesbian couples and couples from all faiths.
Getting Started - Boston Area Wedding Dancing Lessons
If you have plenty of time, you may want to start with a group class teaching some of the most popular wedding dances like the Foxtrot, Waltz and Rumba. These group classes meet on Sunday afternoons and on Monday evenings in the Waltham Studio and are a good way for the bride and groom or any member of the wedding party to learn some of the basic steps in these popular dances. We make it easy for you to sign up online too! If a series of private lessons is what you prefer, then just check out our wedding dance lessons pricing page We also offer special discounted wedding packages.
Choosing Music And Creating Your Wedding Dance
Here is a list of popular wedding music for the bride and groom's first dance, the father-daughter dance and the mother-son dance. If you have picked out music for your first dance, you can bring your music to a private lesson. Most couples choose to take several private lessons to learn a customized dance routine to their music. You can decide how simple or elaborate you want your dance to be. You may want to add some spins and flourishes and end with a romantic dip. Or perhaps you prefer something simple and understated. It's up to you, but we can guide you and advise you every step of the way. Call or email us about our special wedding packages.