Ballroom And Latin Dancing

Getting Started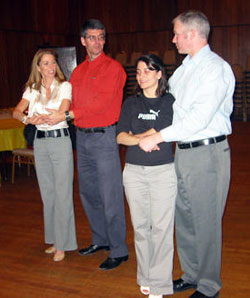 Congratulations! You have made the decision to learn to dance, or perhaps you know some steps and want to expand your repertoire or improve your style and technique, or maybe there is a wedding or other special event coming up and you want to look good on the dance floor! Don't be nervous; you have made a great decision. Dancing is a skill you can enjoy your entire life. It is great exercise and a healthy way to relax after a stressful day at work. Dancing is fun for singles and couples. You can learn to dance even if you don't have a partner.
We offer two ways to get you up on the dance floor in no time. We have regularly scheduled group ballroom dance classes that meet once a week for six weeks. We offer Beginner through Advanced level classes in a variety of dances. These dances usually change every six weeks, so if you don't see the dance you want to learn this session, it will most likely be offered in the next set of six-week classes. You do not need a partner to join our group classes. Singles or couples can sign up and there will be plenty of partners to dance with.
If you can't commit to a six week group class, or if you would like to learn at a faster pace, then you might want to book some private ballroom dance lessons. You can book private lessons at your convenience to fit your schedule. All private dance lessons are held in the Waltham studio. You may book your private lessons one at a time as we do not require you to buy any expensive contracts. You can take a private lesson even if you do not have a partner. Couples and groups of friends can also sign up for private lessons. If you don't see the group class you would like, or are not available when it is offered, you can form your own class with your friends.
We also offer group ballroom and latin dance classes and private lessons to prepare for your wedding. We can help you prepare for your first dance or for Father/Daughter and Mother/Son dances. Please see our Wedding Prep section for more information.
To contact the studio please call (508) 380-4647 or email Suzanne at Suzanne@HambyBallroomDance.com.
We look forward to meeting you!