Ballroom Dance Lessons

Why Ballroom Dancing?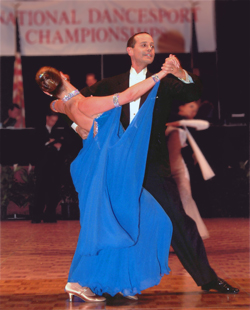 Ballroom Dancing has never been more popular. All ages are enjoying watching the popular T.V. shows Dancing with the Stars, So You Think You Can Dance and Ballroom Bootcamp to name just a few of the many new shows about ballroom dancing. Partner dancing is back and America loves Ballroom Dancing!
Ballroom Dancing is good for your health and is a great way to make new friends by allowing people to connect with each other and to the music. It is a wonderful way to meet people in a relaxed atmosphere and it is a great way to spend the evening with friends and family. Young and old alike can express themselves to a variety of exciting rhythms: the sexy and sultry Latin beats or the slow and romantic smooth dances. Whether you take group classes or private lessons or come to the dance parties, you can be assured of a great time!