Boston Area Group Latin Dance Classes

No Partner Necessary!
Group Classes for Latin Dancing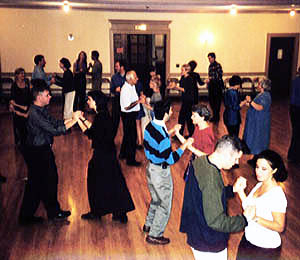 Group classes for latin dancing are a lot of fun and an inexpensive way to learn some of the most popular dances like Salsa, Tango, Rumba, Samba and more. In a series of group dancing classes, you will learn some great combinations of steps and the correct hip and body action as well.
We offer a full range of latin dance classes for beginner through advanced dancers. If you have never danced before, the Beginner Latin Dance Classes will teach you some of the basic steps in the most popular latin dances. You will gain confidence and feel comfortable club dancing or dancing at social occasions. Perhaps there is a dance you have always wanted to learn like the Salsa, the passionate Tango or the seductive Rumba. Don't put it off any longer. Now is the time to take the first steps!
Group Latin Class Sessions
The group latin dance classes run in six week sessions (see Group Latin Dance Lessons Calendar) and cost $60 per person for each six week session. Each class meets once a week for six weeks. After a six week session ends, a different set of dances will be taught, so if you don't see the dance you would like to learn, it may be offered in the next session. The latin dance classes are cumulative so each week builds on the material taught in the previous week(s). Some dance classes teach three weeks of one dance and then three weeks of a second dance as part of the same six-week class. Occasionally there will be a two hour dance workshop or specialty class offered. You may take a class as a drop in, but it is recommended that you try to come to all group dance classes rather than dropping in sporadically. New steps and combinations of figures are taught, and good technique and styling are always stressed. Ready to get started? We make it easy for you to sign up online.
Levels of Instruction
The group classes are divided into levels. Each dance has a syllabus or selection of steps that is taught in each level. Here is what the various levels are called and what they mean:
BEGINNER Level

: No dance experience needed

ADVANCED BEGINNER Level

: No dance experience needed but the class will move at a faster pace than a Beginner Class.

INTERMEDIATE Level

: Some dance experience recommended. Completion of a Bronze/Beginner Class suggested.

ADVANCED Level

: Class will move at a faster pace covering more difficult figures and concepts. Beginner/Intermediate level experience recommended.
Group Class Studio Locations
Boston area Beginner, Advanced Beginner & Intermediate level ballroom and latin dance classes are taught on Sunday afternoons, Monday evenings and Thursday evenings in the WALTHAM STUDIO. Silver/Gold and Gold Star/Advanced level ballroom dance classes are taught on Tuesday evenings in NEWTON. For directions to our studio or to Newton, see our locations page. See the Calendar and Registration pages for specific levels of instruction offered, session dates and pricing.
You can supplement your group classes with private ballroom dance lessons. If you are having difficulty keeping up with the class or have had to miss some classes, a private lesson can catch you up and help you feel more confident with the material. You do not need a partner to sign up for group classes or private lessons.
Register for Group Classes
We make it easy for you to sign up for our group ballroom dance classes online. You can also check the Calendar to see the current and upcoming sessions we have scheduled.